GOODBYE 2020-2021 SCHOOL YEAR!
This school year has been quite a year! We stood strong and brave in the midst of the pandemic. COVID forced us to do many things that were certainly out of our comfort zone. Yet, somehow, we managed to make it happen. We did it! It was not easy, but nothing worth having comes easy. It was filled with new learning experiences and many accomplishments in academics, athletics, and the arts. We learned to grow and be flexible. But most importantly, we learned that we are all in this together. Have a wonderful, healthy, and safe summer!
Chris J. Venna
Superintendent
THANK YOU!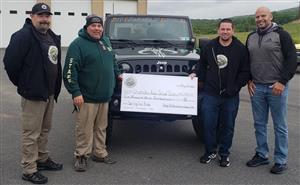 Mr. Venna accepted a donation in the amount of $2300 from Jeep Enthusiasts of Eastern PA on Sunday. The donation was from a trail ride they held in the fall and will be used for programs that will directly benefit students. We would like to thank everyone that particpated.